Bulldogs Defeat Armuchee 41-0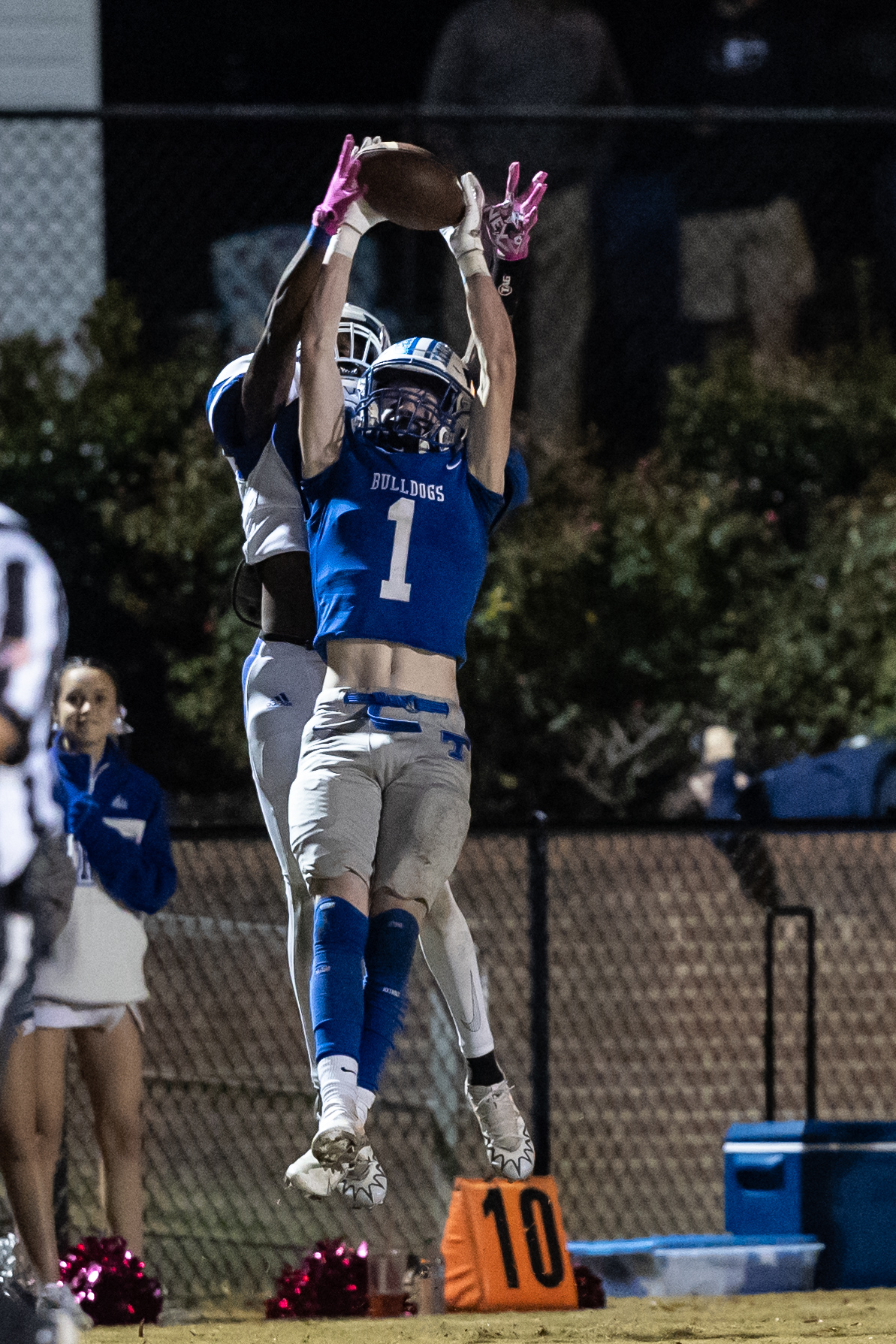 ---
By: Maggie Ragland
The Bulldogs continued their winning streak this Friday with a 41-0 win over the Armuchee Indians at Sam R. McCain. This puts the Bulldogs at an 8-1 overall season record, with a 5-0 undefeated region record.
The boys were hot from the start of the first quarter and earned their first touchdown on the first drive of the game when Toby Maddux carried the ball for 40 yards into the endzone. The Andy Ramirez extra point put the Bulldogs at 7-0 over Armuchee.
The second quarter ensured a strong lead for the team when they scored two more touchdowns. The Bulldog defense was on fire as well, keeping the Indians far from the endzone. Maddux found himself in Indian territory once again, scoring on a 2-yard run and putting the boys up 14-0. Logan Eller pushed through for a 7-yard touchdown before the end of the first half, putting the Bulldogs at a 21-0 lead heading into the field house at halftime.
In the third quarter, the Bulldogs started a drive on the ground and Maddux fought hard for an important first down. But Kade Smith let loose a long, high pass that Garrett Mahan pulled down in the endzone like a pro. The extra point was bobbled, but the Dogs went up 27-0.
On Armuchee's drive, great defense by Cam Durham, Christian Henderson and the rest of the Dogs forced the Indians to punt. On the next Armuchee drive, Logan Eller had an awesome sack and Mahan had great coverage that forced them to punt again and left Armuchee scoreless still at the end of a long 3rd quarter.
In the fourth quarter, Logan Eller broke tackles for a huge 35-yard run and then another 7-yard run. A great block by Eller allowed Maddux to run it in for another Bulldog touchdown. Ramirez was good for the extra point, and the Dogs were ahead 34-0.
Armuchee tried again on their next drive but great coverage by Clay Chesley and the rest of the defensive line forced the Indians to punt once again. In another Armuchee attempt, Chesley got a sack and Christian Henderson and Noah Gann had great tackles to spoil the Indians' attempt to get on the board.
In the final minutes of the 4th quarter, Trion's JV offense took control of the game and Henderson ran a whopping 35 yards to score. Jefferson Ramirez put up the extra point, and Trion finished Armuchee, 41-0.
This Friday will be the biggest game of the Bulldogs' season when they travel to Rome for a true region championship match against the Darlington Tigers. Both teams are 5-0 in region play. Let's join Trion's players, cheerleaders, and band Friday night in Rome and flood the Chris Hunter Stadium with royal blue and cheer on the Bulldogs.